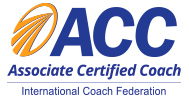 This month, Julie received notice that her credential renewal application for the designation of Associate Certified Coach (ACC) has been examined and approved. Julie completed at least 40 hours of Continuing Coach Education (CCE) in the three years since the initial award of her credential in 2012.
For over a decade, the credentialing organization, ICF (International Coach Federation), has been the leading the development of professional coaching. More than 17,000 coaches have participated in one of ICF's three credentials, gaining coaching expertise and professional fulfillment. With an ICF Credential, coaches demonstrate not only knowledge and skill, but also a commitment to high professional standards and a strong code of ethics.
Anyone serious about building or maintaining a coaching business pursues an ICF Credential and becomes part of this well-respected group that has chosen to regulate itself and provide accountability to clients and the coaching profession as a whole.
All ICF Credential-holders complete rigorous education and practice requirements, providing testimony to their commitment to excellence in coaching.
The mission of the ICF Credentialing program is to:
Protect and serve consumers of coaching services,
Measure and certify competence of individuals,
Inspire pursuit of continuous development.
Julie is proud to be a member of this esteemed group dedicated to excellence in coaching!